I woke up this morning feeling strong and alert, a gift for the upcoming test. 10km straight uphill into the teeth of a headwind so fierce, I had to ride in my granny gear. What an intro to the day. But I felt strong, the miles passing quickly under my wheels. I passed many walkers this morning, only slighter slower than myself up the steep hill.
Puerto de Foncebadon
Spain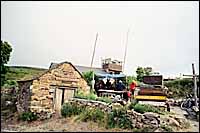 Pilgrim stop
Manjarin, Spain
Ah, downhills!
Rabanal del Camino, Spain
Cold riding
Rabanal del Camino, Spain
Church of Santiago
Villafranca, Spain

It was very beautiful. A grand vista. Clouds raced by overhead, horses galloped over lavender-covered fields. But it was cold! I had my long sleeve shirt over a jersey and my rain jacket on, and I was still cold riding uphill. I tied my bandanna over my ears so I wouldn't go insane from the shrieking wind or drop off from the cold.

When I got to the Cruz de Fuerto at the top of the pass, I found a small chapel and a group of pilgrims recovering from the climb. I feel so lazy. Most of these started walking at 6:00 this morning. I was still asleep then.

I chatted off and on with a Spanish biker who rode at about the same speed as I. Decent chap. We took turns drafting each other. It was a big help. This pass is the highest point on my entire ride. I've been higher, but not this time around.
It was another 5km of up and down before the road turned down. Along the way, we stopped off at the small church/pilgrim stop at Manjarin. A social bunch of people were there, along with a couple very odd sorts. Two guys were dressed in complete pilgrim costumes, right down to the robes, shells, and walking staff.
After that, the road turned downhill, and we dropped out of the sky to Ponferrada. The Spanish bike dropped behind in Molineca, a very attractive town before the city. I kept on cruising. Ponferrada was a shock after last night, but not as bad as the Lonely Planet book makes out. I found a supermercado and stocked up for the next day. Then snacked in the square. People were very friendly, especially the young ladies, smiling, saying "Hola peregrina, que tal?"
Getting out of Ponferrada was a nightmare, though. First, I took the wrong road several km in the wrong direction. Then, after getting directions from a couple of people, I found the road. And found extremely heavy truck traffic, high winds, and relentless uphill. I wasn't enjoying it at all.
It was a great relief to leave the road at Villafranca. It was a nice enough town, but not as special as I expected. Pilgrims too weak to continue were allowed to turn back here as if they had gone all the way to Santiago. What would it have taken for me to turn back here? Something big. I've been through too much getting this far to give up now.
As I was riding down from the Eglises Santiago, I heard a loud twang from my back wheel, and something hit my shin. I thought it was a branch or something, but I didn't see anything. I passed it off as nothing, and rode on. I'd later discover the extent of my error, though too late to do much about it.
Back onto the nightmare road out of town. A highway is being built here, but only sections are done so far. At Villasirde or thereabouts, thank god, most of the traffic went onto the new highway, and I was left my much calmer country road.
It was an exhausting climb up to O Cebreiro, my second pass of the day. By the end, I was only making it a single curve at a time. It felt harder than it should have been. This is when I got my first hint something was wrong. It looked like my wheel was badly out of true. I thought it was because of this afternoon, the extremely bad quality of the roads. I was partly right. But one of the effects was that my rear brake kept hitting the rim every turn of the wheel, in effect hitting the brakes constantly. I managed to adjust it enough I could continue, but O Cebreiro was definitely the end for today.
I met a French biker in the last few km before town. He was 69, and had ridden all the way from Paris. He was as wiped out as myself, but wanted to ride down the other side for tonight. I considered it, but not with my wheel the way it was. Besides, it was 4:30, late enough to stop. When I got to town, my language was all messed up, I kept speaking French to everyone.
My second attempt scored a lovely room for the night. Posh room with the thickest, softest towels I've seen in years and a big comfy bed.
I got my credencia stamped at the church. Another very nice, simple place. The views here are incredible, definitely the best scenery of the trip. Long, rolling hills, green and covered in flowers. I climbed a hill outside of town and just enjoyed the view. It was very cold, though. Walking back from dinner, the sky was black with clouds. A storm was on the way.
Palloza
O Cebreiro, Spain
It's been a long road
O Cebreiro, Spain
View from the town
O Cebreiro, Spain
View from the town
O Cebreiro, Spain
"Last night I dreamt I went to Manderley again..."
-Daphne Du Maurier, Steven King's Bag of Bones

My place had a stack of old books on a shelf. I made the mistake of picking up Steven King's Bag of Bones. Big mistake. Never read ghost stories alone late at night, with a storm raging outside, thunder and lighting crashing around you, and not a light in town outside your room.

Thank god my bed had a light switch within reach. I read the entire book by 2:00. Bad, Sean, you need your sleep.
ODO 02347km
DST 97.62km
AVS 17.6kph
MAX 50.8kph
ATM 05:31:31