Masters of the Dance
X. A Touch of Spice
[ Back to chapter 9 | Table of Contents | On to Chapter 11 ]
| | | |
| --- | --- | --- |
| 1 February | Bus to Maracay | |
Time to get out. I packed early, hit the ATM for a couple hundred (no bank in Choroni), did one last email check, and waited for the evening. A Swedish guy I had been speaking with (food poisoning on Humboldt trek) was also moving on. At 6:30, we went out to the bus terminal. 80B for a por puesta. I had heard good things about Expressos Merida, so I went with them. 10500 for bus, left at 9:00. It was a nice and comfy bus with plenty of legroom. But everyone had warned me about buses here, so I was prepared - it was damn cold! I brought my fleece plus a long sleeve shirt with me, and needed them. Brr. It was a good enough night, I slept maybe 6 hours off and on. The entire ride took about 1.5 hours to Maracay...
| | | |
| --- | --- | --- |
| 2 February | Puerto Columbia | |
The bus pulled into Maracay around 7:30. What a mess. After Merida's nice and orderly station, Maracay's was rather rough. Maracay is known as the Garden of Venezuela, and I could see why in part. There was fruit everywhere! But I wasn't sticking around. I got directions to where the Choroni bus left, and actually managed to find the spot with several people's help. While I was waiting, I noticed another foreigner there. He looked familiar, so I struck up a conversation. Turns out, he was also staying at my posada in Merida. Interesting guy. He was originally from Cologne, Germany, but had lived the last 14 years in Brazil with his Brazilian wife (he met her while travelling here 15 years ago) and kids. He seemed a mixture of German and Brazillian as a result.

After a half hour or so, the bus pulled up. Um... It was an old school bus, quite a change from the comfy Volvo's we had been in... As soon as we left the city, we plunged into an interesting ride. Very narrow, winding roads leading up, over, and through the hills bordering the coast. There were hairpin turns that the bus had to go into reverse to maneuver. Small waterfalls. Rivers rushing over the road. After about 2 hours, we pulled into Puerto Columbia. Nice. Old colonial style, nice look to the place, tiny as it is. Kurt and I scoured the town for a nice place. The selection wasn't much. In the 5-10k range, we found mostly plain places, some rather grim. Next step up was all the way up to 20+k. We ended up at Casa Blanca. A very nice large room with furniture and share bathroom cost 7k. But the courtyard was very nice. Hummingbirds flitting around, massive Emperor palm trees, flowers, comfy chairs to sit. A kitchen we could use, and it was nice and peaceful.
Puerto Columbia, Venezuela

But both of us had been on a bus all night. To the beach! A five-minute walk through town, over a bridge/through a river, and down the road, and wow. Another version of paradise. White sand beach, coconut trees lining the beach, beautiful clear surf with high waves, cliffs on both ends, and plenty of sun and shade everywhere. We dumped our gear and dove in. Yeehaw! The bodysurfing was brilliant. We were like a couple kids. I only dislocated my shoulder once on a 2-metre wave. But my pale skin couldn't stay out for long. Plus, I was hungry. So we sat in the shade for a bit, chatting in Spanish with a friendly guy from Maracay. Then into town. 3000B bought a huge red snapper with rice, chips, salad, etc. Good eat. I also added some aïoli? I don't know what it was, but made the meal nice and spicy. Finally!
Then, we spent most of the afternoon sitting in the garden chatting as the skies clouded up.
Puerto Columbia, Venezuela

At night, neither of us was hungry, so we just sat by the ocean in a park and watched the waves roll in. Nice. Then, a couple beers and a tiny pizza as a snack before crashing into bed. It felt so nice to sleep in a bed! A real one, too! Nicest mattress I've had in two months! Ah! Snore!

Bus to PLC, 1200B
| | | |
| --- | --- | --- |
| 3 February | Puerto Columbia | |
I woke up at 10:30, after 12 hours of sleep. I needed it, as I was still sick with my cold. I woke up still sick and feeling poor. Kurt and I spent the day on the beach. Supposedly, a hurricane was going on offshore, and the effects were obvious here. The beach, a nice mellow place yesterday, was a mess today. 3 metre waves, incredibly strong winds, and water taking over much of the beach. But I found a nice sheltered spot and dozed off. Snore! I had only a slight burn after it was all over.

Dinner at night with Kurt. We had a decent pizza and too many beers as we talked. More talk back at the Posada, along with a Greek guy staying there with his wife and baby. Poor guy, he met this (beautiful) woman two years ago here, and suddenly found himself married and with a kid, something it appears he's not sure he wants... The woman was from a upper class family, and didn't behave as she "should" back in Greece... On other matters, he lives on Corfu, and tells me it's still good. I'v been afraid to go back, after I had such a good time there last time... It was funny. We were talking about different cultures' "stupid joke people." In Brazil, it is the Portuguese. In Greece, the ?. In Germany, the northern Germans (the blonds). In the States, Polish (and blonds). But the three of us there sounded like the start of a joke. A German, a Greek, and a Yank were sitting in a posada... ;-)
| | | |
| --- | --- | --- |
| 4 February | Puerto Columbia | |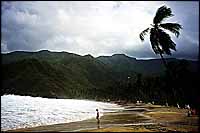 Puerto Columbia, Venezuela

The storm from yesterday has only increased its fury. The winds are hard to walk against. Kurt and I climbed up to the TV station on the hill for the view. A nice hour walk. And great views from the top. Then to the beach. What was left of it, that is. This is supposed the worst in at least 15 years. Most of the sand was washed away. Coconut trees were being washed out to the sea. The locals were trying to save them. It was still beautiful, but it looked like a war zone. Just for old times sake, I grabbed a coconut off the ground and had a nice tasty snack, sharing with some passing people. Yum. It made me want to smoke... ;-) I went back to snooze in the garden as the trees bent in the wind. At night, a few too many beers and some mediocre chicken. I turned in early, as I have an early start tomorrow.

Beer 180-250
Water 500-600/litre

Email me at nomad3 @ GoneWalkabout.com

[ Back to chapter 9 | Table of Contents | On to Chapter 11 ]
---
©Copyright 1996-2001 Seán Connolly
---